Unrealectric, originally released as Unrealectric EP, is a 7-track album and the debut release by General Mumble. Despite being the debut release, it is the third album to be produced under the name General Mumble. It is preceded by the eponymous "General Mumble" album and the "It's Like Choco Fun, Without The Fun" EP, which were never officially released.
Sound
The overall sound of the album is mostly leant towards space music, and is no longer very representative of General Mumble's sound. "In General" is the only other General Mumble release to contain a substantial amount of this particular sound, while also leaning toward a more dance-inspired vibe. The Ariah alias was created in 2013 to continue with the space music style with newly formed habits and knowledge.
Big inspirations behind the sound of the album are the soundtracks to "Unreal", a 1998 video game, "Unreal Tournament", a 1999 video game, and "Jazz Jackrabit 2", a 1998 video game.
Name
The name "Unrealectric" is a portmanteau of "Unreal", a 1998 video game, and "Tubelectric", a track from the soundtracks of Jazz Jackrabbit 1&2, both of which are big inspirations behind the album's sound.
The album was originally released as "Unrealectric EP", but was later changed to just "Unrealectric" since the release feels more like an album than an EP.
CD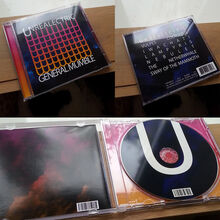 The album was made available on unlimited-run CD in 2014 via Amazon's Createspace service. The track listing does not differ from the digital release.
The album contains the first track in what would become a series of tracks across many General Mumble albums, each sharing the same melodies and the "x Coeruleus" naming format. These are to keep a track of how the General Mumble style has evolved/will evolve over time.
Track Listing
Unrealectric
Vulpes Coeruleus
iWachati
Lampyris
Nebulet
The Netherwhale
Sway of the Mammoth