Songs About The Pink One (and others)
Artist(s)
General Mumble,

The Quick Brown Fox, The Living Tombstone (CD Only)

Genre(s)
House, dubstep, drum & bass
Released
6th November 2012 (digital download)

17th April 2014 (limited edition CD)

Recorded
Jan 2012 - Nov 2012
Length
54 mins (digital download)

67 mins (limited edition CD)

Label
Mumble Etc.
Price
£2.50
Cover artist(s)
Poowis (design, CD design)
Download/Purchase
Bandcamp
Stream
Unknown
CD
Bandcamp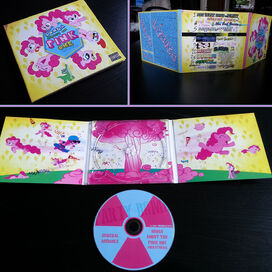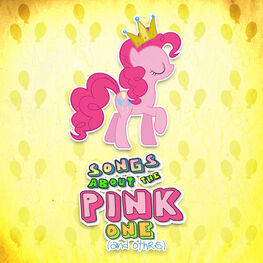 Songs About The Pink One (and others) is the fourteenth album by General Mumble, released on November 6 2012. It contains 14 My Little Pony: Friendship is Magic themed house, dubstep, and drum & bass tracks.
The title on the front cover album artwork actually reads "Songs About The Pink One (and othRs)". This was originally a typo, but was left in by choice because it suited the cute aesthetic of the album.
The track "RD-Rezzed", a homage to Daft Punk's "Derezzed", was "remastered" in 2013, due to the original version's bass track not being turned on when rendering the final render. As a result, the only modification in the "2k13 remaster" version is the addition of a bass.
It was released on limited edition 6-panel digipak CD on April 17 2014, and contained 3 bonus tracks. The CD was limited to a run of 100 copies, but was given another run of 100 copies due to popular demand, and the upcoming BUCK convention. The second run of CDs featured a slightly modified design, switching the colours of the two spines, and correcting a colour issue with a vector. The CD was banned from sale at BUCK 2014 due to the venue not allowing the sale of any media marked for explicit content. The CD (along with the CDs for The Horse Disc and NOW That's What I Call Horse Music) was instead "legally" distributed out of Mumble's backpack via exploiting a loophole in which the CD could be "misplaced", and picked up by someone who happened to "misplace" a £10 note.
The album was re-released on CD in 2019 for sale at TrotCon, but didn't arrive in time and had to be sold online afterwards. The new version contains three bonus tracks by Koa in place of the original version's bonus tracks.
Track listing
Edit
Not THAT Kind of Party
Operation Oatmeal
More Than a Chicken
Her Evil Dances
Fluttershy is a Dubstep Robot
Crush. Kill. Destroy. Swag.
RD-Rezzed (2k13 remaster)
Pony Holiday
=)
Pink 'n' Pie (Pinkstep remix)
Appleshake
Slimebag
Cheering 101 (vs. The Quick Brown Fox)
Jazz Invades Equestria
CD-only bonus tracks
Edit
2014 version
Edit
Suite E (bonus track on CD version)
Stinkin' Thinkin' (bonus track on CD version)
More Than A Chicken (The Living Tombstone's remix) (bonus track on CD edition)
2019 version
Edit
Take Off (Confidence)
Broken Wings
Awoken
Community content is available under
CC-BY-SA
unless otherwise noted.