Riikira (pronounced rih-KEER-əh) is the eighth alias under the Mumble Etc. label. She is an amphibious, anthropomorphic canine/jellyfish hybrid. She creates digital hardcore - fast-paced, punky electronic metal. Her music is primarily vocal-based, sung through her electronic voicebox, which she crudely installed into herself after realising she was capable of more complex communication than her canine larynx could provide.
History
Riikira's first appearance was in the thank-you credits for Kitcaliber's ИΣVΣRLAИD SØUИDGIRL$, released 17 April 2014. She was listed next to her radio frequency, M027. Ren had asked Mumble to come up with a "future death-warrior" name to appear in the album's thanks. Shortly afterwards, Riikira was developed into a character and new alias to produce music similar to that of Kitcaliber's.
Her name is a portmanteau of "Rikers", from the prison vessel Vortex Rikers in Unreal, and "Kira", the Japanese pronunciation of "killer" as prominently used in Death Note.
Character sheet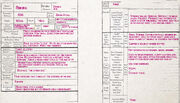 Discography
Albums