Obi-Wan Finale - The Loop
Play Sound
Pollogamy is a 16-track compilation album by General Mumble. It's the thirty seventh album and the eighth compilation album by General Mumble. It contains a "bunch of less-heard-of dancey tracks of Mumble's, with a sprinkling of more-heard-of tracks". The tracks are mixed together to create a nonstop mix.
The tracks featured are taken from the following releases:
Bottlenose Tophat

Headless Horse EP
Name
The title of the album loosely translates to "chicken marriage", and is a play-on-words of "polygamy" - meaning marriage to multiple spouses. A reference to Mumble's affinity for chickens.
CD
The album was released on unlimited-run CD via Createspace on 10 February 2016.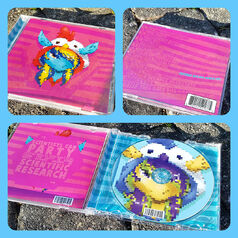 Track listing
Silly Videogame Bleep Bloops
Shark Sharts
Scientists Can Party
That Box
Bluejack
Sausagefighter
A New Day + Dubstep RMX
Music In The Treetops RMX
Maneater Manatee
Bottlenose Tophat
All Fine
Sugar & Fat
Dinner's Severed, Pinkie
Mayhem Invades Equestria
Obnoxygen
Raise This Barn RMX + Re-arrange This Barn
Also
This album refers to LAPFOX-HALLEY nonstop mix THE FUCKDEST JAMS