Jurassic World: Dominion Dominates Fandom Wikis - The Loop
Play Sound
PEGASII DOGGE AM, stylised as ◭PEGA§II ± DOĞĜE AM◭, is a 9-track album, and the second album by plunderphonics alias MUM-B1.
Style
The album is a brief venture into the world of vaporwave music, containing a handful of songs slowed down and slathered in effects, sometimes chopped up and combined with other songs to create mashups.
The album artwork shows a highly saturated, low-polygon stone bust of MUM-B1. It was created using UnrealEd 2.0, the program used to make in-game levels for Unreal Tournament '99, then later edited in Photoshop. It was inspired loosely by the album art for Blank Banshee 0 by Blank Banshee. As such, the album comes with a raw, unphotoshopped UnrealEd version of the artwork, and a version of the artwork with text and a modified background to reference Blank Banshee 0, among two other alternate artwork versions and a 1920x1080 wallpaper.
Cassette tape
The album was released as a limited edition cassette tape in September 2015, as requested by various fans of the album, making it the first Mumble Etc. release to appear on cassette.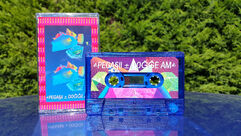 Track listing
l u c k y s p a r k l e
GotUBby
24ḈṜṰ
YmuOsicU
ᗍSANCTUARY1741ᗍ
Ƞ Ð Ṿ Ṝ
L.A.S.T. D.A.N.C.E
D4NKHALL-D4Z3
ÆS COER
Issues
Due to the album and song titles containing special Unicode characters, some zip-extractor programs encounter errors upon extracting. The album zip comes with a text file containing URLs to alternate downloads with special characters omitted from the filenames. These links also appear in the "Download" section of the infobox on this page.