Mumble Bundle 2k14
Artist(s)
General Mumble, Jennifur, Spott, Riikira, ◻, Ariah, 【 mica 】, Daemien, Rotløs, Inoperable Mass, Genreal Mymbloe, 77p egg
Genre
Electronic, hardcore, digital hardcore, IDM, glitch, space music, metal, noise fusion, parody, shitcore
Released
17 Dec 2014
Recorded
2014
Length
79 mins
Label
Mumble Etc.
Price
Name Your Price (digital)

$11 USD (CD)

Cover artist(s)
Poowis
Download
Bandcamp
CD
Createspace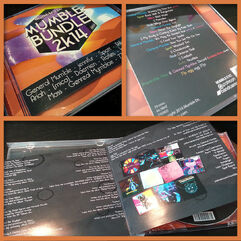 Mumble Bundle 2k14 is an 18-track name-your-price compilation released by Mumble Etc.. It features a handful of notable works from various aliases from 2014. It is the second release in the Mumble Bundle series of yearly compilations, following the Mumble Bundle 2k13, and preceding the "Throwback" compilation Mumble Bundle 2k12, which was released in 2015.
The tracklist is ordered by "tracks that flow decently well into each other", except the last few tracks, which are placed at the end due to their generally inaccessible sound.
The cover art shares its background with the background seen on Mumble Etc. sites from late 2014 through to the end of 2015.
The album was released on unlimited-run jewel case CD via Createspace early 2015.
Track listing
Edit
General Mumble - Wasting My Time (feat. ʝennifur)
Spott - Back With A Vengeance
Riikira - Acid Wave
◻ - Petrichor
Ariah - Wings Over Nyleve
General Mumble - >=)
Riikira - Distort The Dogfight
◻ - My Body Is Getting Eaten By Kate Bush
General Mumble - We May Be Divided (feat. 【mica】 & Daemien)
◻ - Feed Your Spider
General Mumble - How You Set Me On Fire
Spott - Wrecked 'Em
◻ - Ouroboroalis
Ariah - Omicron Dusk
◻ - Everloch
Rotløs - Piranhas
Inoperable Mass & Genreal Mymbloe - Discord (Eurobeat Brony cover)
77p egg - egg (77p)