Mumble Bundle 2k13 is a 21-track name-your-price compilation released by Mumble Etc. It features a handful of notable works from various aliases from 2013. It is the first release in the Mumble Bundle series of yearly compilations, being followed by the Mumble Bundle 2k14 and the compilation Mumble Bundle 2k12, released in 2015 as a "Throwback" compilation.
The tracklist features the more popular work from 2013, featuring some n​ew exclusive tracks and a few collaborations with good friends from Huge Umbrella.
The cover art shares its background with the background seen on Mumble Etc. sites from late 2013.
Few of the tracks are only found on the bundle and are currently not found anywhere else.
CD
The album was made available on Unlimited-run CD via Createspace in December 2015.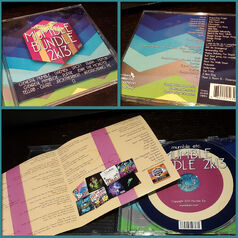 Track Listing
MUM-B1 - Ring-a-Ding Dogge 
General Mumble - Starchheart
General Mumble - Babs Seed RMX
General Mumble - Obnoxygen
General Mumble - Scientists Can Party 
Ariah - Helix Pass 
Daemien - Atomicbitch Yellowbelly 
General Mumble - Devil In Me (Feat. Tellab) 
Spott - Dango Dango Dango Dango Dango Dango 
General Mumble - Suite E 
Pupae - i want to be on a compilation BUT NO ONE LIKES MY MUSIC へ​(​✖vv✖へ)
General Mumble - 999 (An Emergency)
General Mumble ~ Interrobang Pie ~ Glaze ~ JackTHerbert - Neverending Trot
Genreal Mymbloe - Happy Birthday You Stupid Moth Butt (feat. jenny тнє monster)
Spott - Hen Party 
General Mumble x Daemien x Spott - Beat The Walls Down
Daemien - Ptolomea
General Mumble - Underwater 
Daemien - Eye Folds 
General Mumble - A New Day 
◻ - Floor 2, Room 15 - Finances