Obi-Wan Finale - The Loop
Play Sound
In Your Eyes is a 12-track album and Koa's second full-length release.
The record wanders stylistically around and adjacent to pop. Like its predecessor, the album features a great deal of collaboration, including appearances by General Mumble, PegasYs, Seventh Element, TCB, and two vocal synthesizers, Kasane Teto and Hatsune Miku. Influences for the record include Giga, Bruno Mars, and Charlie Puth; a playlist of tracks that inspired those on In Your Eyes can be found -here... soon-.
Each track is told from the perspective of a different character in "My Little Pony: Friendship is Magic," as noted in the track listing below, giving reason for the album's title.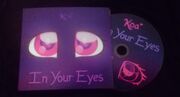 CDs of the album were made available for sale beginning at Ciderfest 2021, which coincided with the album's release; remaining copies were made available on Bandcamp on October 31, 2021. The CD comes in a six-panel digipak and includes two bonus tracks (Beyond Her Garden and ホットココア ~徹夜のうた~).
Track listing
君の目に (feat. 重音テト) - Derpy
Walk. (w/Seventh Element) - Rarity + Vinyl Scratch
Supercut (You Don't Know What I Did Last Night) - Berry Punch
Background pt. 1 (w/TCB) - Lyra Heartstrings
Drown (feat. 初音ミク) - Silverstream
Wanna Be pt. 1 (feat. General Mumble) - Diamond Tiara
Wanna Be pt. 2 ~ Identity Crisis - Thorax
Glimmer - Starlight Glimmer
Shattered (feat. General Mumble & PegasYs) - Sunburst
Background pt. 2 - Bon Bon
Pinkie Bard - Pinkie Pie
forget me not - Minuette