Jurassic World: Dominion Dominates Fandom Wikis - The Loop
Play Sound
Hemikrania is a 13-track album and the ninth release by General Mumble. It contains a mix of electronic music, ranging from fast digital hardcore inspired tracks to slower, gritty, downtempo, to dark ambient.
The album marks the first appearance of Daemien, who closes the album with the track "Bolge XI", but does not appear anywhere else on the release.
CDs
The album has been released twice on CD. The first run was a limited edition digipak version, released on 15 Feb 2014, that also came with the Paycheck EP on the same disc. The second run takes advantage of Amazon's Createspace service, providing unlimited copies in jewel case format. The Createspace version does not contain the Paycheck EP bonus tracks.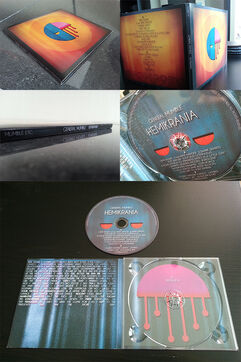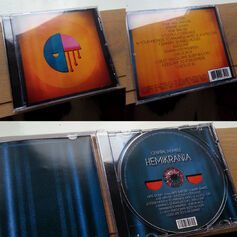 Name and artwork
The name "Hemikrania" is Greek (ἡμικρανία) and translates to "half-skull," from which the word "migraine" was derived. The artwork shows a symbol that represents one side of the head in pain.
Track listing
Digital & Createspace unlimited-run CD
Bite Down
тнє Hate Badger
Shark Sharts
Die Dan Die
Tuchus Coeruleus
Your Method To Madness Ratio is a Little Off
Dinner's Severed, Piggies
Descent
Maneater Manatee
Bluejack
Silly Videogame Bleep Bloops
Escape To Ionosphere
Bolge XI
Limited Edition CD
Bite Down
тнє Hate Badger
Shark Sharts
Die Dan Die
Tuchus Coeruleus
Your Method To Madness Ratio is a Little Off
Dinner's Severed, Piggies
Descent
Maneater Manatee
Bluejack
Silly Videogame Bleep Bloops
Escape To Ionosphere
Grey Matter Icepick
Fired
PB1C 4M
Sugar & Fat
Treelights
Bolge XI