Ariah (pronounced ə-RYE-ah) is the sixth alias under the Mumble Etc. label. She is a giant tarydium manta, a rare breed of giant manta with genetic mutations caused by the tarydium element, from the planet Na Pali. Her colour scheme changes depending on situation, eg. red highlights for conflict or warding off, green when feeding, fucshia when in heat or breeding, or multiple colours when exerting high amounts of energy. Teal and white are her default "at-rest" colours. She makes space music, ranging from calm downtempo and ambient to demoscene-inspired and fast-paced.
Ariah was created to revisit General Mumble's old space music style, previously only visited in the album Unrealectric, and briefly in the album In General, but with new production skills and habits, and to create an entire Unreal-inspired character with a story.
Discography
Edit
Albums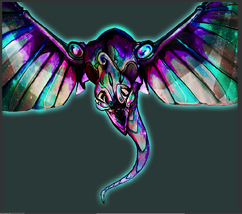 Community content is available under
CC-BY-SA
unless otherwise noted.