◻
Artist(s)
◻
Genre(s)
Remix, experimental, drum & bass, glitch, IDM
Released
01 May 2015
Recorded
Jan 2014 - Apr 2015
Length
46 mins
Label
Mumble Etc.
Price
Name Your Price (digital)

£4 (limited CD)

Cover artist(s)
Poowis
Download/Purchase
Bandcamp
Stream
Unknown
CD
Bandcamp (Sold out)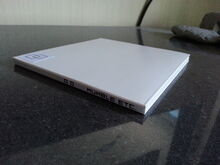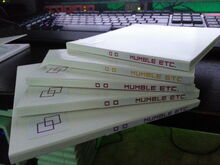 ◻ is a 14-track remix album, and the third full-length release by ◻. It is the second self-titled album by ◻, the first being Missing Character. The album features mostly VIP (Variation In Production, by the same artist as the original song) remixes of tracks from the albums "Missing Character" and "Auria; Fade of Dusk", but also includes a handful of tracks that needed a home.
Direction
Edit
The album was made to experiment with an alternative approach to remixing, incorporating field recordings, mashups, reversing of entire tracks, songs sped up to last only a fraction of the original time, among other methods.
Instead of typical naming convention for VIP remixes, such as "Song (VIP remix)", the tracks are all given new titles which reference the song from a different angle. The naming convention of tracks and alternative approach to remixing was inspired by The Mars Volta's live album "Scabdates", an album which doesn't simply span a single live performance, but a selection of performances over the course of a year, mixed together with field recordings made during touring.
Artwork & CD
Edit
The album was given a limited edition run of CDs, and is the first album under the Mumble Etc. label to be released on CD at the same time as being released digitally. The CD art features black symbols and text on a mostly-whitespace background. Instead of using the digital album art on the cover of the CD, the CD art was designed first, and a copy was scanned into the computer to become the digital album art. Top-tier contributors to the Mumble Etc. Patreon were given copies of the CD with the symbols and text in a colour of their choosing.
The album was also the first CD to be released via Bandcamp, rather than Createspace or Storenvy, to test the waters of Bandcamp's merch system, being a relatively small run of CDs.
Track listing
Edit
| # | Title | Original song | Original album | Notes |
| --- | --- | --- | --- | --- |
| 1 | You, You, or You | One of One Places | Auria: Fade of Dusk | Original song, remastered by sc.Dave! for a university project, with added field recordings taken during a walk in the rain. |
| 2 | Trying My Hardest To Exist | N/A | N/A | |
| 3 | All Eight Attire You | Feed Your Spider | Missing Character | Also appears on How To Twiddle A Couple Dials And Dance Like A Twat as "Feed Your Spider VIP", but in mono audio. |
| 4 | FYS | Feed Your Spider | Missing Character | |
| 5 | öRö | Ouroboroalis | Missing Character | Features an extended final section of the song, beyond the point where the original abruptly cuts off. |
| 6 | The Town That Never Saw The Sun | Staden Som Aldrig Såg Solen | Missing Character | Original full recording of the song, which I suppose makes the "original" a remix of this track. |
| 7 | Aillaburg | Grubbalia | Auria; Fade of Dusk | |
| 8 | Iggi | ig | Compos 2k14 And Some Other Stuff, Yeah | Extended version. Originally appears on Compos 2k14 And Some Other Stuff, Yeah under the General Mumble alias. Extended by simply adding a reversed version to the end of the original. This is referenced in the title. |
| 9 | th Circle | Circle, The | PWR ON. 2k15 | Original song by General Mumble, featuring ◻. |
| 10 | öЯö | Ouroboroalis | Missing Character | Original song split into individual sections for each beat, with sections played in reverse order by individual beat. Discovered by Deadcanons using Infinite Jukebox. Directly recorded via the site. |
| 11 | Primrose and Psilocybin | The Great Lyde Mushroom Forest + Smart Side of The Moon | Auria; Fade of Dusk | |
| 12 | Old Man | N/A | 24 Hours Of Pain - Old Into New | Released originally on the compilation album "24 Hours Of Pain - Old Into New" on Swaffelcore Records. |
| 13 | ☮ | ☮ | Missing Character | Silent track. Appears as track 26 on the album "Missing Character" under the same name. The audio is reversed, despite the original also being silent, thus making the track identical, but still able to be called a variation in production. |
| 14 | ◻ | N/A | N/A | An audio scan through the entire album. |
Community content is available under
CC-BY-SA
unless otherwise noted.